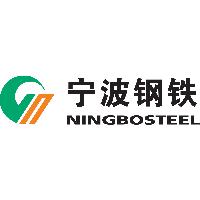 Ningbo Iron & Steel Co., Ltd.
Ningbo Iron and Steel Co., Ltd.
Ningbo Iron & Steel Co., Ltd. (hereinafter referred to as"Ning steel"founded in 2003, is a annual production capacity of hot rolled steel coil 440 million tons, from the raw material to the Ironmaking, steelmaking, continuous casting, hot rolling and other processes complete, the production level of equipment of the leading domestic large-scale iron and steel joint enterprise. Ning Steel under the sea port, the Land Transport Maritime Transportation is convenient, the location advantage is very obvious, is the domestic coastal has the advanced manufacture ability of hot-rolled product volume production base. Ning Steel has passed the ISO 9001 Quality Management System, GB/T23001 integration of the two management systems, and ISO/TS16949 automotive industry Quality Management System, ISO 14001 Environmental Management System, ISO 10012 measurement management system and OSHMS 18001 Occupational Health and safety management system, the National Safety production standardization level enterprises and other certification. Won the"special equipment manufacturing license","China Classification Society certificate of works approval","China Laboratory of the National Evaluation Committee(CNAS)"certification.

Welcome people with lofty ideals to join the co-creation Grand Albert.
Talent and technology needs of the focus areas
1, high-end steel new material R & D: bearing steel, tool steel, electrical steel, high-quality steel design, R & D, production, promoting the product technology and process technology advances. 2, energy saving green technology: low-carbon metallurgy, energy-saving technologies, comprehensive utilization of resources, ultra-low emissions and other aspects, to create a whole process of green manufacturing system.

3, intelligent manufacturing digital technology: driving digital transformation, intelligent apps, intelligent management, it relates to the Industrial Internet, Big Data, intelligent sensing detection technology, etc., to promote Coke, iron, steel, rolled-site process and control technology improved.
A salary, job negotiable. (二)welfare

1, the payment of social insurance, housing Fund(12%), comprehensive accident insurance, company pension;

2, to provide accommodation, commuter car, meal allowances $ 660/month, shift allowance, and high temperature allowance;

3, various types of subsidies: communication fee subsidies, cold subsidies;

4. other benefits: the birthday of welfare coupons, movies welfare coupons, trade unions, health, trade unions holiday benefits, annual regular medical check-UPS, etc.
If you have the job requirements, please send your resume to email:JCintelligence@outlook.com并抄送application@techtalentsuk.com, the

E-mail subject, please write:"your name+candidates units+candidates for the post of".

For more information, please contact:

WeChat with the Tel):15345856252
Job Features
Job Category
Science, engineering and technology
Academic requirements
Master and above
Number of vacancies
Number